Registration and Fees
Fees for September 2021 - August2022.
Sunshine Montessori Nursery offers places for funded two year olds, 15 hours per week free Government funded childcare to all children from the term after they are three years old and offer 30 hour funded sessions for eligible three and four year olds.
For more information about free childcare for two, three and four year olds visit www.bucksfamilyinfo.org
FEES
Early Bird Club 8.00am - 9.00am
£8.00
Morning Session 9.00am - 12.00 noon
£24.00
Lunch Session 12.00 noon - 1.00pm
£8.00
Afternoon Session 1.00pm - 4.00pm
£24.00
Late Bird Club 4.00pm - 6.00pm
£16.00
Additional Sessions
£8.00 per hour
(£24.00 for a 3 hour session)
PAYING YOUR FEES
Our fees are inclusive apart from school trips which are charged separately at cost (your child's attendance is not compulsory on trips). The fees are shown by session as we offer flexible bookings (subject to availability) to cater for your needs as a family. There is a commitment to register and pay for a fixed number of sessions per week, a minimum of two per week. The number and length of sessions can be reviewed in January, April and September, or exceptionally at other times.
Fees are payable by Bank Transfer (Bank details are provided on every invoice and statement) within 30 days of the date of invoice. It is also possible to pay by childcare nusery vouchers or Tax Free Childcare.
Childcare nursery vouchers (a scheme operated by many employers) are also accepted.
Tax-Free Childcare is a government initiative which is gradually replacing the existing Childcare Voucher Scheme. For eligible families, Tax-Free Childcare offers to cover 20% of childcare costs (up to £2,000 per child, per year), for children up to the age of 12. For more information go to https://www.tax-free-childcare.info/
These fees are correct for the academic year shown at the top of this page. They are reviewed annually and therefore may have changed by the time your child starts. You are welcome to ring to check price details at any time.
Notice of withdrawal must be given in writing three months in advance. No refunds are given for absence from nursery.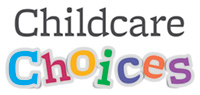 We support Childcare Choices